Discussion Starter
·
#1
·
Took this off the Corvette Fourm...Might help
I know there's been something like this on here, but it was just not specific enough for some of the more "basic" folks who really need to be step by step'd on this process. I was really specific so, it seems long, but the process is really quite simple once you do it the first time.
I put a lot of time into this for the sake of helping the forum members, so please sticky.
Step 1
Load pictures of your car into your computer via your camera software. Simple enough.
Step 2
You need to establish an account with an online photo host. I use
www.photobucket.com
. Others use imageshack, villagephotos, shutterfly, etc. Its up to you. Go to your select site and follow the directions to establish an account. If you established an account here, its very much the same.
Step 3
This step involves uploading your photos, so they are available online.
Once you have your account set up and you go into your album you'll see an option to upload photos. At photobucket, this is what it looks like.
You'll select the large button indicated in the red that says upload images. Be sure the button to the right in red has "my computer" selected, as this indicates the photos you want to upload are located within your computer.
Once you click the large upload pictures button a browse window will open. This window shows the files and folders in your computer and you must navigate to those photos.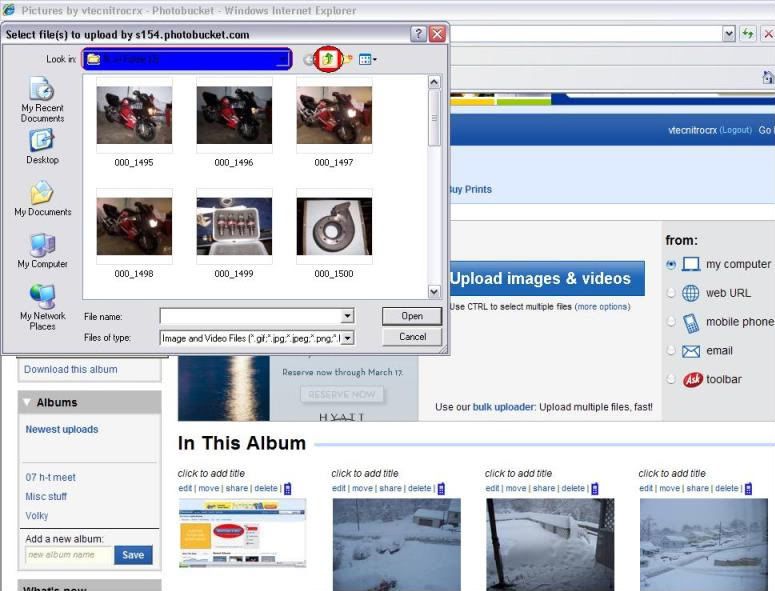 The area indicated in red (above) allows you to "move up", you can also use the drop down menu in blue to see the entire folder structure your computer stores files in, and through searching in there you should be able to locate your saved Corvette photos on your computer. To make it easier, when your looking in folders be sure you select thumbnails, so it allows you to view pictures in your folders versus file names. The area to select thumbnails is indicated in blue below.
Once you located your Corvette pictures, double click the one you want and it will automatically begin uploading OR if you have multiples hold the button "control" or "ctrl" on your keyboard while using your mouse to select each photo clicking once. Once all photos are highlighted click open and they will begin uploading. When uploading you will see this: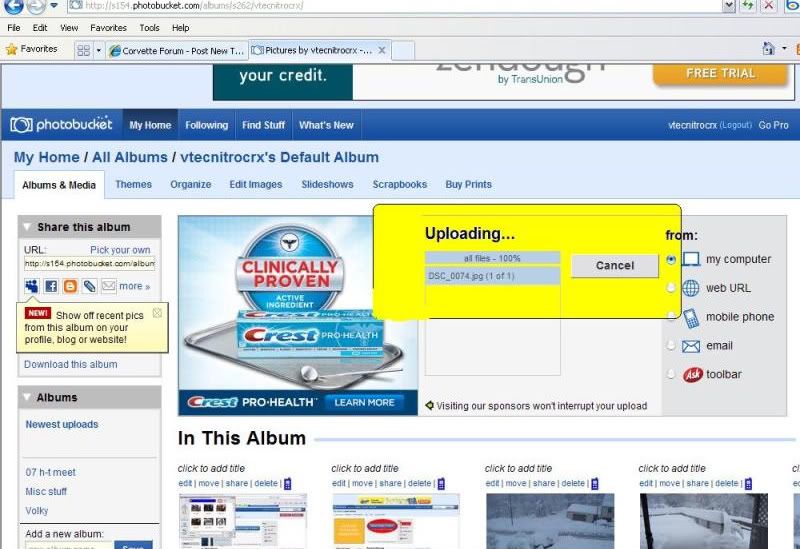 Once done, a screen will come up that allows you to add tags, or a title to the photo. Add it if you wish or just select go to my album and you'll see your photo that's been uploaded.
Hit the go to album and your photos are lined up like beneath circled in red.
This image has been resized. Click this bar to view the full image. The original image is sized 1024x640 and weights 103KB.
Done
Step 4
Now to post them in your for sale ad.
Start your for sale thread and when your ready to add your picture/s, go to photobucket and click to enlarge the photo you want to add. It will bring up a screen like this. The picture shown is one of these I've posted here.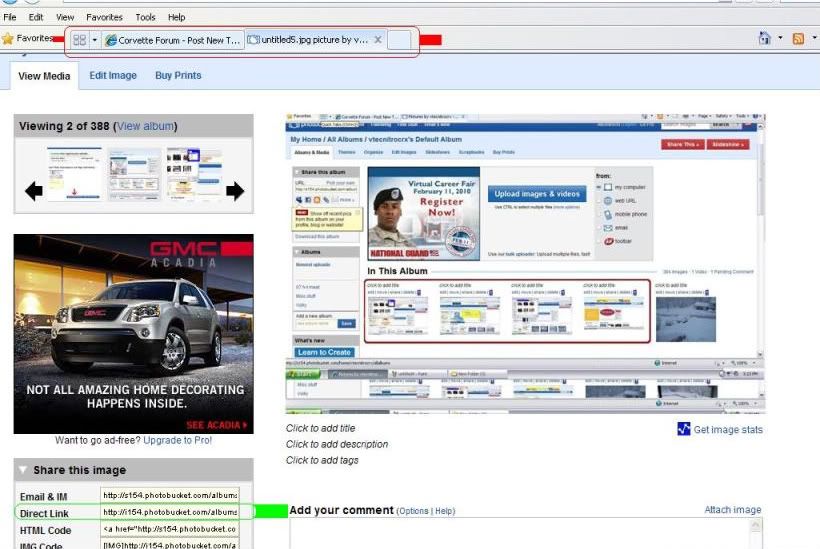 The area in red shows using multiple tabs which are available in Internet Explorer 7 and up, Mozilla Firefox, Google Crome...etc. That way I can post in one, then click over to the other and use the photobucket to select pictures and links.
The area in green is the area your going to click on. With photobucket it will automatically copy the link if you click it. You can also mouse the link to highlight it then click "ctrl + c" for copy.
You then jump over to the for sale post in the Corvette forum and select the insert image button (circled in blue). Depending on your computers security settings, sometimes you will get a warning at the top of the screen (red arrow). If you do, select the item circled in red.
This image has been resized. Click this bar to view the full image. The original image is sized 934x543 and weights 89KB.
If you get the warning, once you select temporarily allow scripted windows, reselect the "insert image" button and a window will pop up. This is where you will paste the direct link copied from photobucket.
This image has been resized. Click this bar to view the full image. The original image is sized 1024x640 and weights 77KB.
In the area asking to enter URL press "ctrl + v" and the link you copied from photobucket will appear. Click "ok" and the link will appear in the window your creating your thread with img tags around it.
Repeat as necessary until all your pictures are entered and your done.
Now for a small shortcut...read below
As a CorvetteForum member pointed out, there is another quicker option available to you that works on many forums out there, but not all. I posted the way I use, because as a member of many forums I just got used to using the way that works everywhere. Now that you know the first way that works in every forum format, then knowing this way can only help you get things done quicker.
Here's the shortcut: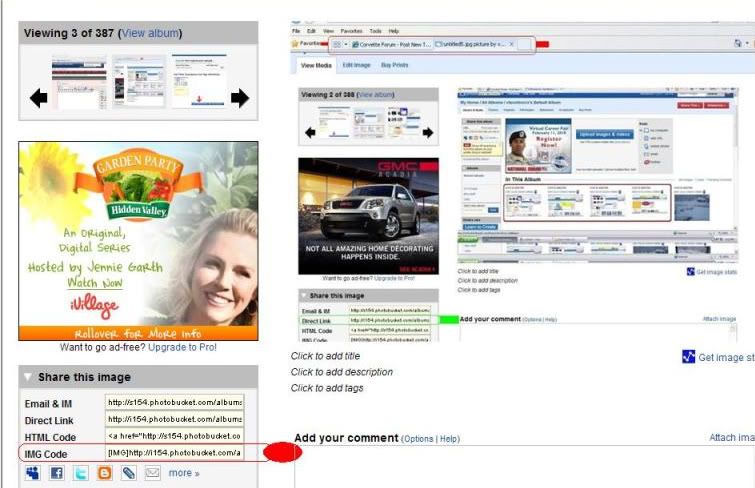 You can use the img code highlighted in red. Click it or press "ctrl + c" then go to the corvette forum message window that your creating your post in and press "ctrl + v" pasting the code directly. This allows you to avoid hitting the "add image" button and inserting the link into the small window that appears in the upper left. Thanks Zymurgy for pointing that out.