Discussion Starter
·
#1
·
Ok - I'm sort of a lighting freak, not a PIAA off road lights on the grille kind of guy, but more of a functionally as useful, safe, and accurate as is reasonably possible.
One thing that has agitated me a bit about the CT's headlamp assembly since I got it is the configuration of the turn signal. (Disclaimer - I'm a bit OCD, you may not at all consider this a problem! :] ) I do not like how it is far inboard, right by the grille, and it's an amber bulb behind a relatively heavy tinted amber diffuser.
My specific gripes are that the flip/flop between parking light mode and turn signal indication isn't bright enough, and being so far inboard it doesn't have enough visibility to the sides of the car. When I'm at an intersection I *really* like people to my left and my right to know when and where I will be turning. In fact if you are as OCD as myself you will probably notice it is not common to have just one turn signal indicator in the front of a vehicle and have it be inboard of the headlight low beams.
I don't know what, if anything, could be done to make the existing turn signal bulb brighter or more visible but I was thinking about wiring the outside parking light bulb to function in tandem with the turn signal. My friend has an RDX and his turn signal is also inboard by the grille, but unlike the stock CT, his turn signal also flashes that outside parking light bulb (and the LEDs in his side mirror . . .dang it).
So I was looking at the parts diagram online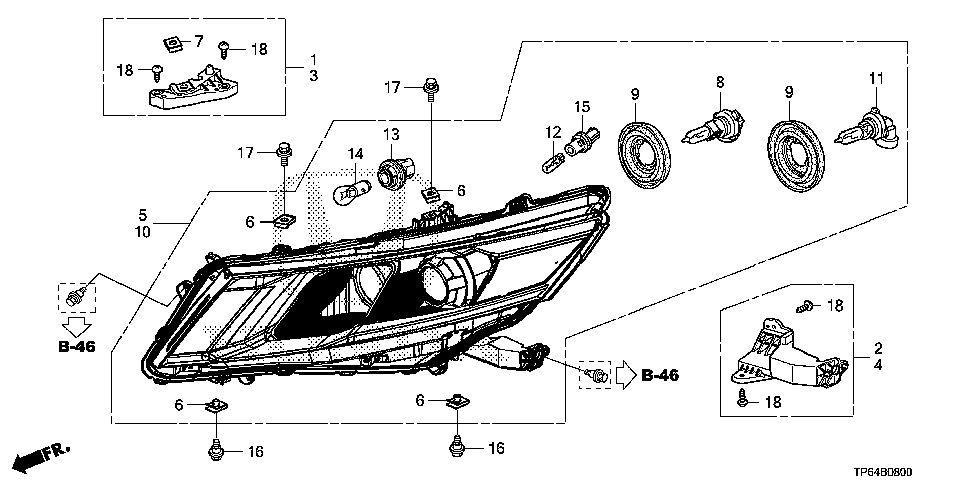 Correct me if I'm wrong but I think the blow out diagram of these bulbs is in the wrong order. . .
14/13 - inner turn signal
12/15 - outer parking light (should be to the right of the high beam)
8 - low beam
9 - high beam
Though this particular diagram doesn't show the wiring harnesses, I would speculate that the turn signal uses 3-wires and the outer parking light uses 2.
So my question is, has anyone played around with this? If I wanted them to flash in tandem and have the outer parking light still function I believe I'd have to change the socket and bulb to match 14/13, correct?
Another whacky idea I had was to emulate the (singular) cool thing I saw on a newer Pontiac the other day. . .it activated its turn signal and had one in the headlamp assembly blink and also it's fog light area blinked amber. I don't know if it also functioned as a fog light, he didn't have them on. But it would work with those switchback type LED bulbs. However that would require converting our H11 fogs to something like a 3057 type, and I don't know what would be required to do that.
I also noticed the new 2012 TL has a turn signal down low by the fog light (but separate assemblies).
Thoughts, ideas?
Thx!