Discussion Starter
·
#1
·
Where: Meet at The Killeen Mall in front of Dillard's 2100 S W S Young Dr, Killeen
When: April 14 2012 All day.... MEET AT 10:30AM and we will be leaving for Inks Lake State Park at noon
We will be grilling once we are at the lake and also be raffling of prizes. All proceeds will go to Make-A-Wish Foundation. If you would like to Donate anything weather it is prizes, food, or money please contact me with your donation and I will add you to out sponsor list.
This year I was not able to get us into the park for free so there will be a $5 charge per person to enter the park. I do have us a pavilion reserved with plenty of parking. The water levels should be high enough this year so if anyone wants to swim feel free.
This event is open to anyone whether you have a car, bike, truck, van
I do want to stress that is not a race to the finish and this is a FAMILY friendly event I want everyone to have a good time.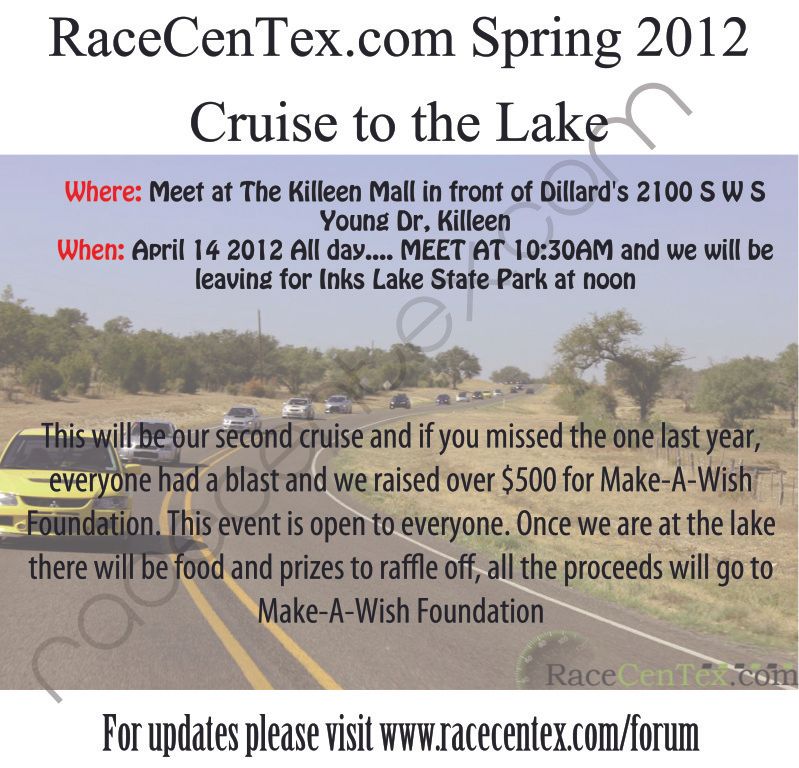 Please join and RSVP on the site and I hope to see everyone there, also check the site for updates
www.racecentex.com/forum
or
http://www.racecentex.com/forum/showthread.php?1236